EVE Screen Editor (ESE) 4.4.0
The EVE Screen Editor (ESE) is an intuitive GUI tool with "drag & drop" user experience to help EVE users understand the commands effortlessly. Empowered by cutting edge EVE emulator, ESE gives users the maximum fidelity of graphics effect. Coprocessor commands and display list can also be input in the editor window of the tool to see the visual output immediately. As a result, it dramatically lessens the learning curve of EVE features.
This tool is platform independent so that the screen design can be created without taking the details of the MCU into consideration. Users have the option to export the design to some hardware platform specific source code. This greatly reduces the effort to start up a new project.
In addition, if users have an EVE module connecting to PC through FT4222 or MPSSE, the screen design shown in the tool can be synchronized with it immediately.
Key features:
Constrain either horizontal or vertical positioning when dragging an object
Support Riverdi EVE modules
Disable Refresh, Device Manage, Device Display buttons once connect to device
Add REG_OUTBITS to device configuration dialogue
Show the pixel value at status bar when mouse hover over the viewport window
Add Blend_Func example project
Add the circular progress bar widget example
Add bitmap rotating example projects
Add ASTC memory layout example project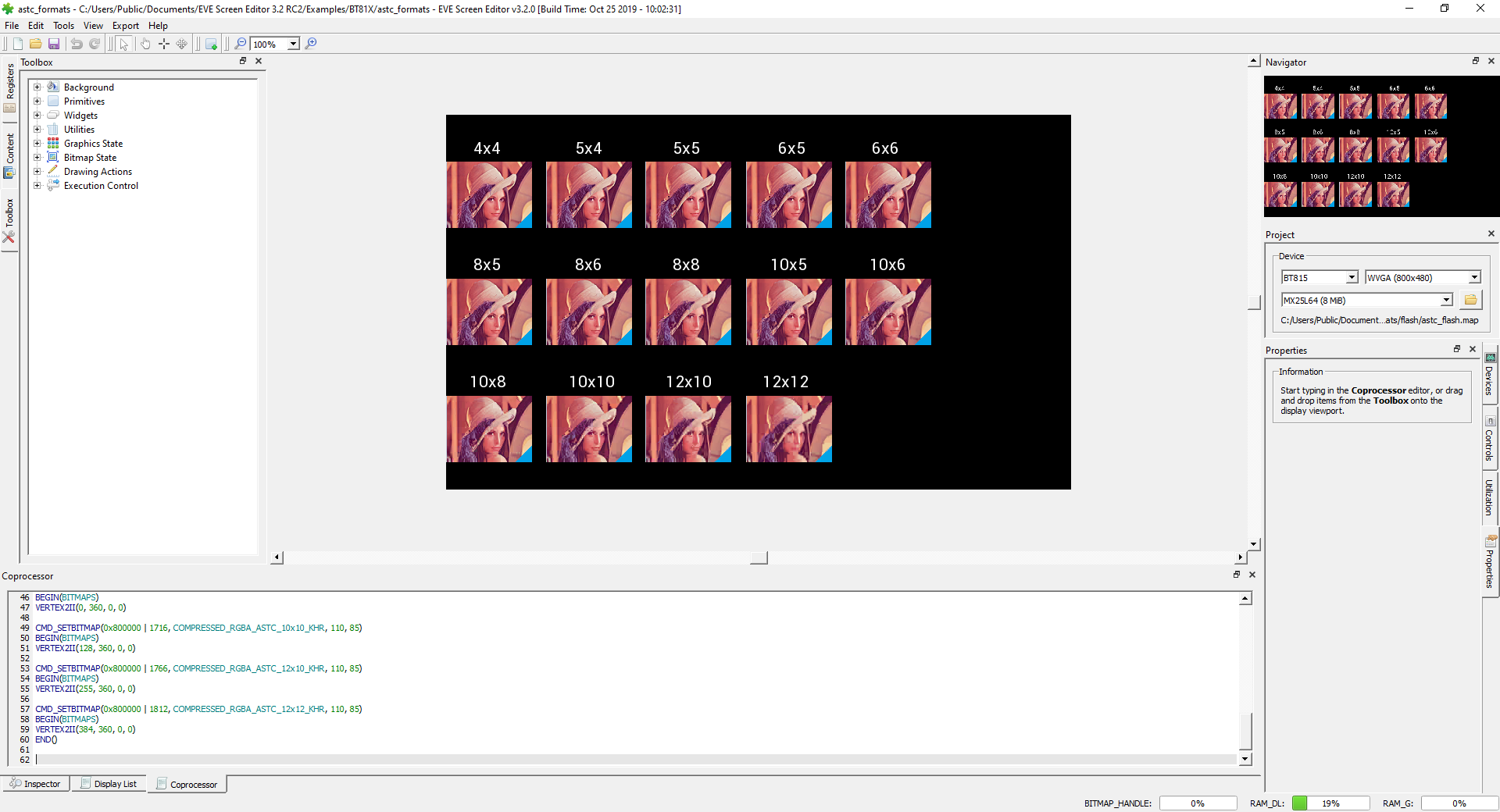 The latest version is ESE which can be downloaded from here. The user guide is available within the 'Help' menu following installation. Alternatively, the user guide can also be downloaded from here.
New features:
Support new EVE chip BT817/8
Add new registry values in device configuration window
Add BT817/8 specific commands to Toolbox
Add new gauge example
Add ME817EV board in Device Manager
Add new resolutions when BT817/8 is selected
Add cookbook examples for new chip BT817/8
Add new Python script for exporting BT817/8 project
Provide more user friendly value options for REG_OUTBITS
Set shortcut Ctrl+R for Reset Emulator menu
Make improvements on the register window
Update the latest flash blob
Update Python to 3.8.0, FreeType to 2.10.2
Get output results for CMD_GETPROPS and CMD_GETPTR