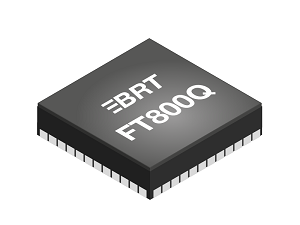 The FT800 is an easy to use graphic controller targeted for embedded applications to generate high-quality Human Machine Interfaces (HMIs).
The device supports line by line graphics rendering to 1/16 of a pixel on displays with resolution up to 512 x 512 with 262K colours.
The chip includes a touch controller for sensing touch feedback from a TFT display with a resistive touch panel as well as a sound synthesizer and audio playback with a PWM output to drive a speaker.
$

3.45
Kindly fill in the enquiry form so we can touch base with you for FT800Q & FT801Q.