BT81x Series ICs – Embedded Video Engine (EVE)
EVE technology is a revolutionary concept that utilizes an object oriented methodology for creating hi-quality human machine interfaces (HMIs). With support for display, audio, and touch, this new technology allows engineers to quickly and efficiently design HMIs and deliver robust solutions, hi-resolution displays with lower bill of material costs.
Building on the success of the first two generations of FT8xx touch display controller ICs with Embedded Video Engine (EVE) technology, the series has now been extended to include a further two graphics controller devices which offer a plethora of improvements and extended capabilities, the BT81x series.
Support for the Adaptive Scalable Texture Compression (ASTC) algorithm means that image quality can be significantly enhanced without needing greater bandwidth to be allocated as the compression algorithm allows for smaller compressed files, thus providing the ability to enable major savings in memory space required when it comes to larger fonts and data-heavy images.
Further memory management and system resource improvements are available in the form of a dedicated QSPI host port for attaching an external flash memory, to supplement the EVE controller's on-chip memory. The dedicated port is used exclusively for accessing external memory thus extending the on-chip capacity to store additional image and audio objects such as bitmaps and fonts required in many feature rich displays. As an additional port this frees up the main system QSPI port used to control the BT816 devices from memory copy tasks and as such reduces the workload on the system MCU.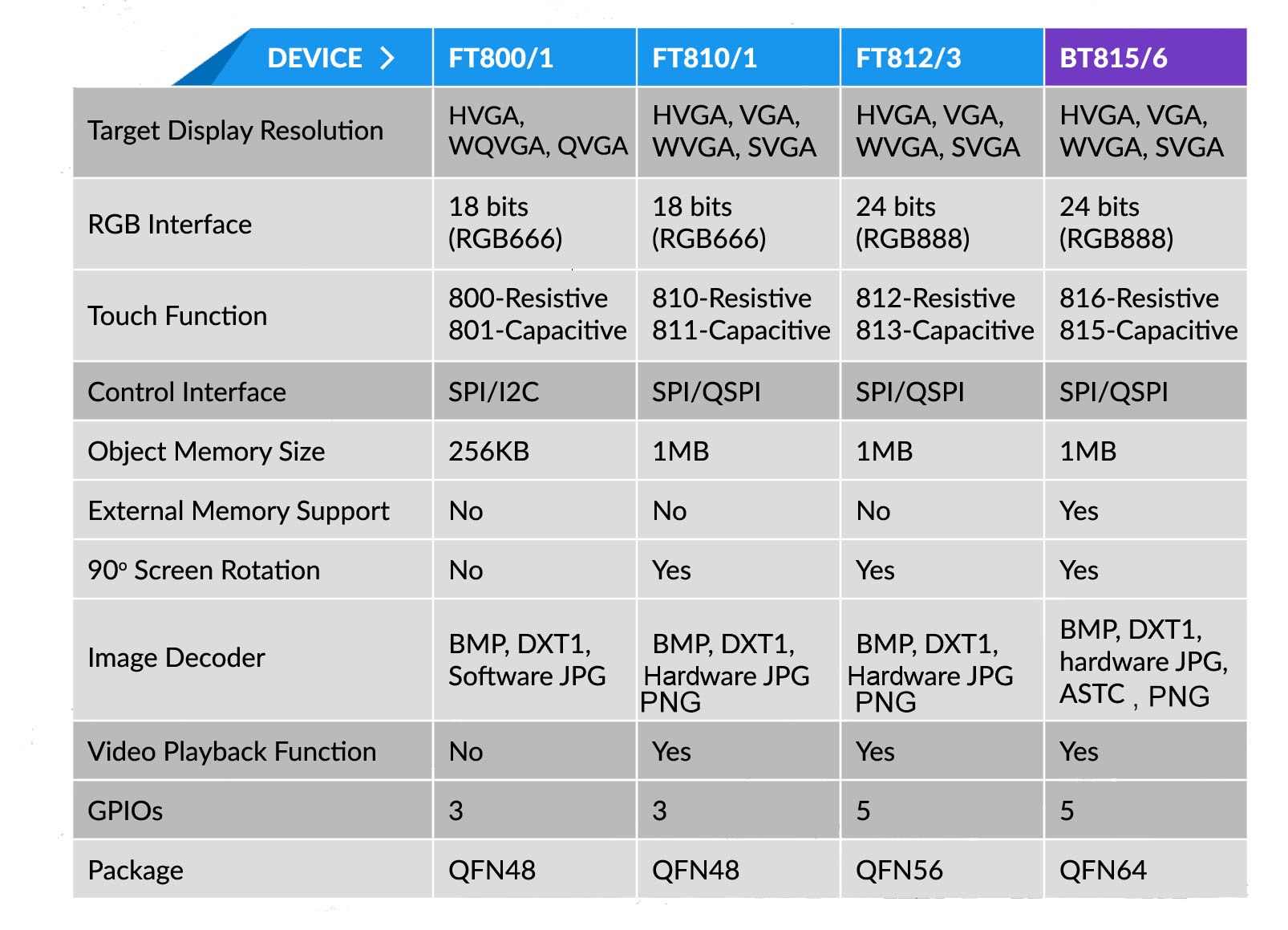 BT815/6 functionality includes graphic control, audio control, and touch control interface.
Support multiple widgets for simplified design implementation
Support Adaptive Scalable Texture Compression (ASTC) format to save considerable memory space for larger fonts and graphics images
Support external QSPI NOR flash to fetch graphic elements(image, font, widget etc)
Support 4-wire resistive touch screen (BT816)
Support capacitive touch screen with up to 5 touches detection (BT815)
Hardware engine can recognize touch tags and track touch movement. Provides notification for up to 255 touch tags.
Programmable interrupt controller provides interrupts to host MCU
Built-in 12MHz crystal oscillator with PLL providing programmable system clock up to 72MHz
Video RGB parallel output; configurable to support PCLK up to 60MHz and R/G/B output of 1 to 8 bits
Programmable timing to adjust HSYNC and VSYNC timing, enabling interface to numerous displays
Support for LCD display with resolution up to SVGA (800×600) and formats with data enable (DE) mode or VSYNC/HSYNC mode
Support landscape and portrait orientations
Display enable control output to LCD panel
Integrated 1MByte graphics RAM, no frame buffer RAM required
Support playback of motion-JPEG encoded AVI videos
Built-in sound synthesizer
Audio wave playback for mono 8-bit linear PCM, 4-bit ADPCM and µ-Law coding format at sampling frequencies from 8 kHz to 48 kHz. Built-in digital filter reduces the system design complexity of external filtering
PWM output for display backlight dimming control
Supports I/O voltage from 1.8V to 3.3V
Built-in Power-on-reset circuit
-40°C to 85°C extended operating temperature range
Available in a compact Pb-free, VQFN-package, RoHS compliant
Point of Sales Machines
Multi-function Printers
Instrumentation
Home Security Systems
Graphic touch pad – remote, dial pad
Tele / Video Conference Systems
Phones and Switchboards
Medical Appliances
Blood Pressure displays
Heart monitors
Glucose level displays
Breathalyzers
Gas chromatographs
Power meter
Home appliance devices
Set-top box
Thermostats
Sprinkler system displays
Medical Appliances
GPS / Satnav
Vending Machine Control Panels
Elevator Controls
Inventory from our Authorised Distributors