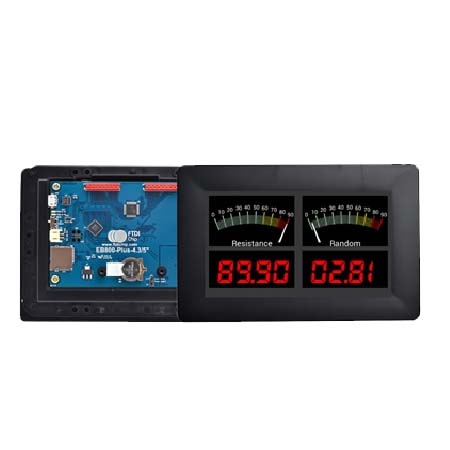 The VM800P utilises the Bridgetek FT800 Embedded Video Engine, EVE. Graphic, audio and touch features of the FT800 chip can be accessed with the VM800P. For a full list of the FT800? features please see the FT800 datasheet.
The VM800P module has the following features:
– FT800 for graphics, audio and touch processing
– ATMEGA328P system microcontroller operating at 5V/16MHz supporting Arduino libraries
– Touch screen LCD panel
– Backlight LED driver
– Audio power amplifier and micro speaker
– FT232R USB serial port for firmware upgrade
– Micro-SD socket for application storage, including 4GByte SD Card pre-loaded with sample applications
– Battery backed Real Time Clock
– 2x Micro-MaTch miniature connectors for daughter card expansion
– 5V power supply from micro-USB or battery connector
– Precision fitted bezel in black(-BK) or pearl (-PL)
Fast Moving and Limited Stock Available.
$

86.80